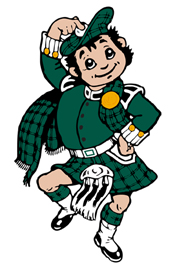 Last month, I was invited to join a Facebook group entitled, "A Petition To Keep Kilts In GHCHS Marching Band."
As a former Highlander myself, as well as a general devotee of
men in skirts
, I accepted the invitation with enthusiasm and a degree of alarm. The Granada Hills Charter High School Highlander Marching band without kilts? That's like Loch Ness without the monster. It's like golf without balls. It's like prom without booze. It just doesn't work. And it flies in the face of tradition.
How did it come to pass that someone would even consider stripping the Highlander Marching Band of their kilts? After joining the petition group, I started peeking into the rumors to see if there was anything underneath. To aid in the petition effort, I also let my Facebook followers know about the group, and the word quickly began to spread. Soon, the group's numbers swelled from a handful to almost three hundred members. Outraged students and alumni voiced their disapproval in dozens of posts, all voting overwhelmingly in support of kilts:
Amy Nicole:

Kilts make Granada who they are. Who is saying they want to get rid of them?



Donna Foley

: The kilts are what have made the Highland band what they are. I was in the original band that got the uniforms in 1977. I am a music teacher myself now and my kids in Texas even know who the GHHS (GHCHS) Highlanders are!
Some things are what make a band stand out. The Highlanders are known for their kilts and Holland H.S. in Michigan is known for their wooden shoes. You know these bands from a distance. Let tradition stand!

The vociferous response to the Facebook petition did more than evoke the passions of kilt supporters; it also provoked the ire of band director Al Nelson. Nelson contacted
GigaGranadaHills
shortly after the Facebook group began gathering steam with a terse and demading one-line email that said simply, "Take down the petition and print a retraction, now."
Ewan MacGregor, kilt supporter
The importunate missive seemed to be the result of two mistaken assumptions on Nelson's part: that I was responsible for the creation of the Facebook petition, which was actually created by a GHCHS student (who subsequently withdrew himself from the group -- it is now listed as having no administrator), and that I had already written an article about the kilt issue, which I would subsequently be willing to retract upon his order (so make that three mistaken assumptions).
A source knowledgeable about the situation said that Nelson, who refused a request for an interview, is a supporter of the kilt tradition and doesn't wish to see it abandoned, despite arguments that the uniqueness -- or some might say oddity -- of the Highlanders' uniforms detracts from their scores at band competitions. But the source said that once the possibility of doing away with kilts was raised, in the wake of that discussion, Nelson was "getting constant emails from band parents that are getting pissed at him and blaming him for everything." Several band parents reportedly first became aware of the issue through the creation of the Facebook petition group -- presumably the reason for Nelson's ire over its existence, even though the petition's initial aim had been to bolster Nelson's pro-kilt position.
I called GHCHS and spoke with Julia Howelman, administrative director of the band, who said, "That's the first I've ever heard of it," when asked about the rumors of kilt removal. Howelman later spoke with band director Al Nelson, and on Monday confirmed that the kilts are in fact, here to stay.
Granada's official position is that the threat to kilts was "nothing but a rumor," but rumors don't typically spread unless they are credible, and the censorious,
shut-down-this-pro-kilt-discussion-thread-now
response on band director Al Nelson's part is curious. If kilts were never threatened to begin with, then why so strenuously object to a discussion in favor of them?
Recent Granada graduate and former band member Eleazar Calderon was able to illuminate the origins of the kilt dispute. It seems that walk-on coach Nick Petoyan -- not an instructor or band director but "an assistant to the assistant to the assistant" (Howelman's term) who works with the band's drum line, was the initiator of the kilt-killing sentiment, and was actively "fighting to take out the kilts," according to one Facebook commenter. And since Petoyan, who though not the band director, is a coach, a school employee and an authority figure to band members, had taken an anti-kilt position, students took the threat seriously.
Facebook commenter Aaron Levy said, "Nick went off to SCV and came back with a lot of new ideas and changes, most of which we do not like. Some are pretty good, but like this one, not all of them." Petoyan, who also could not be reached for comment, "apparently wants to change the kilts because him and other drumline instructors want the apparel to (be) the standard marching uniform... this could result in better scores," Calderon said. Another source echoed the sentiment that kilts hurt competition scores: "Many judges hate them, and they want them to go away... the judges hate them because we aren't the same as everyone else."
Yet for the foreseeable future, the Higlanders' kilts are secure, and Howelman told
GigaGranadaHills
that the school even has new kilts on order. And despite misgivings Petoyan and others may have about the kilts' impact on competition scores, they haven't completely prevented the Highlander band from winning awards; according to the band's
website
, "The Highlander Band was awarded the Grand Sweepstakes Championship at the Portland Rose Festival in 2005 and the Peoples Choice Award in 2007."
And the URL for that site?
It's www.kiltedband.com.